I
t is our mission to provide to the oil and gas producers of the Appalachian Basin, highly trained and knowledgeable, experienced personnel, modern and safe equipment and a commitment to excellence in service.
Company History Profile
Timco, Inc. has been actively engaged in the oil and gas well service industry since 1978, filling the needs for specialized well chemicals and the trained personnel to deliver and install the chemicals in the well. Timco further expanded services to swab rigs, service rigs and power swivel in 1980, hydrocarbon services in 1985 and wire line services in 1991. The same year Timco expanded sales to the international market by selling used cable tool drilling rigs and tools, worldwide.

Today we speclize in our Cased Hole Wireline Services, Hydrocarbon and Chemical Services and Tools for Cable Rigs.

We are the Eastern Distrubitor for the Owens Casing Patch Systems
---
CONTACT INFORMATION:

TIMCO, INC
57051 MARIETTA ROAD
BYESVILLE, OHIO 43723
740-685-2594 phone
740-685-3598 fax
TIM BROWN: FOUNDER, PRESIDENT & CEO
Tim has actively been engaged in the oil and gas industry since 1975; has drilled, completed and maintained hundreds of wells in and around the Appalachian Basin; founded Timco, Inc. in 1978 and continues as it's President and CEO today. Feel Free to contact Tim, his e-mail is tim@timcoinc.net or cell phone 740-680-4646

WE INSTALL THE OWENS CASING PATCH SYSTEMS

Tubing Casing Patch Technologies
The Owen X-SPANŽ Tubing/Casing patch System provides a proven, durable and dependable seal over perforations, splits, corrosions or leaks in all types of tubulars. This system can be deployed on electric wireline or tubing and used on conventional, horizontal, monobore, multi-lateral, slim hole or geothermal well bores. The Owen X-SPANŽ System has proven to be an economical and reliable solution for a broad range of applications, including shutting off unwanted water influx, zonal protection for frac-through applications, repairing tubular leaks from pin holes to collar leaks, repairing corroded or eroded tubing or casing as well as isolating frac ports and auxiliary tools in horizontal wells.

The large bore assures easy passage of service tools including bridge plugs, drop balls, seal bore assemblies, logging tools and perforating systems. The minimal surface equipment required for deploying the patch and rig less intervention results in tremendous savings for the operator. The metal-to-metal X-SPANŽ seal is proven technology engineered for high temperature applications while yielding the highest burst and collapse pressure ratings in the industry. The X-SPANŽ casing patch can be deployed to protect 300-ft (91-m) sections of tubing or casing on a single trip, with multi-trip stackable patches available to span longer intervals. X-SPANŽ Systems can be designed using premium alloys for extreme well bore environments and custom sized for most tubing restrictions.
The full range of Owen's X-SPANŽ Technology include:
All Owen X-SPANŽ Systems are easily deployed using a range of multi-stage explosive or hydraulic setting tools. The explosive setting tools can be initiated electrically, on e-line or slick line using a variety of compatible firing systems. For your conventional tubing or coil tubing deployment requirements, we have several sizes of hydraulically operated setting tools available. X-SPANŽ Systems are easily removable by just milling off the sealing elements. The reliability and quality of the X-SPANŽ System has been proven many times over the past several years with over 2900 installations completed with a success rate of 98% when setting depth has been achieved.

The Owen Oil Tools Tubing/Casing Patch uses multi-dimensional metal-to-metal X-SPANŽ Technology to provide a permanent seal over perforations and to stop leaks of all types.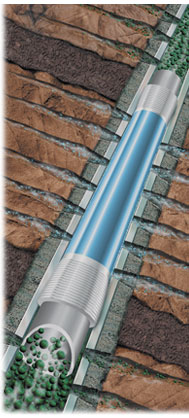 OWENS patches can be run in any type of well including horizontal, multilateral, slim hole, monobore, or geothermal. X-SPANŽ Technology is economical and reliable when used for water shut off or zonal isolation applications. The large bore assures easy passage of Magna Range bridge plugs, logging tools, coiled tubing tools, and perforating systems.
Benefits/Capabilities:
Water shut-off / zonal isolation
Seals leaking liner tops
Velocity strings
Sump packers
Liner hangers
Suspension of gravel pack screens
Large ID PBR's
For more information go to:
www.corelab.com/owen/tubcasingpatch-landing
T

General Information:

Tim Brown